LIBELAS: Library for Efficient Large-scale Stereo Matching
LIBELAS (Library for Efficient Large-scale Stereo Matching) is a cross-platfrom
(Linux, Windows) C++ library
with
MATLAB
wrappers for computing
disparity maps
from
rectified graylevel stereo pairs
. It is robust against moderate changes in illumination and well suited for robotics applications with
high resolution
images. Computing the left and right disparity map of a one Megapixel image requires
less than one second
on a single i7 CPU core. More details can be found in our
related publications.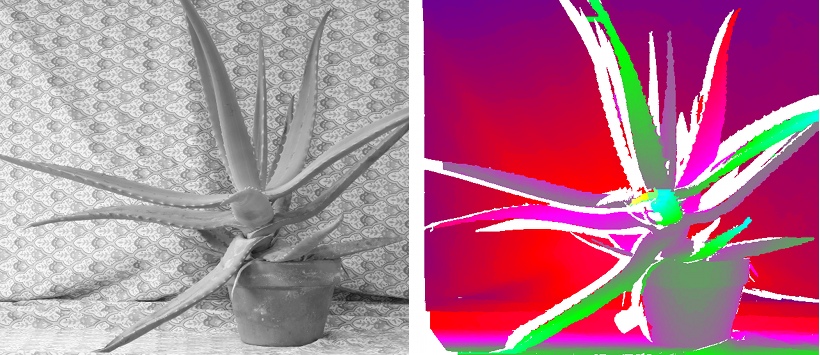 Changelog
30.06.2015: Fixed a little bug in the OpenMP version, thanks to Giulia Pasquale for reporting.
03.02.2015: Added some header includes for compatibility with Visual Studio 2013, thanks to Xiaoyan Hu for reporting.
15.10.2014: Fixed a bug when extrapolating to the image boundaries, thanks to Daniel Scharstein for reporting.
05.09.2014: Fixed a bug in the maximum computation, thanks to Jun Fu for reporting.
21.11.2013: Changed the flags passed to the compiler such that the library builds on Mac OS X 10.9 again. Thanks to Winston Churchill and Alastair Harrison for reporting this issue.
07.11.2013: Fixed a bug in the triangulation code that occurs on 64-bit systems with more than 4GB memory, thanks to Marko Markovic for reporting.
14.03.2012: Fixed another bug in adaptive smoothing, removed a momory leak.
19.09.2011: Fixed the shifting bug of adaptive smoothing, a small bug when finding support points as well as a couple of memory leaks: Thanks to Simon Hermann, Markus Moll and Wojciech Chojnowski for reporting those issues.
26.05.2011: Fixed a flipped parameter bug in the Matlab demo code, thanks to Diego Cheda for reporting
24.01.2011: New version uploaded! New features: SSE instructions used for computing descriptor (faster), better approximation to bilateral filtering for postprocessing, bytes-per-line parameter for input images. Further, a new parameter 'subsampling' allows for evaluating only every second pixel, which is often sufficient in robotics applications, since depth accuracy matters more than a large image domain. Using this option, we run ELAS at 8-10 fps on the 0.6 Megapixels Karlsruhe data set using a single i7 3Ghz core.
12.11.2010: Minor changes for running on Mac, thanks to Tobias Feldmann
11.11.2010: Fixed a bug in Elas::createGrid, thanks to Samuele Salti for reporting
03.10.2010: Added support for minimum disparity parameter (must be >=0)
20.09.2010: First version online
Prerequisites
We tried to keep dependencies as small as possible, but to get started you are going to need at least:
Download
This code is published under the
GNU General Public License
.
Datasets
Datasets from the videos / paper / presentation
Citation
@INPROCEEDINGS{
Geiger2010ACCV
,
author = {
Andreas Geiger
and
Martin Roser
and
Raquel Urtasun
},
title = {Efficient Large-Scale Stereo Matching},
booktitle = {Asian Conference on Computer Vision (ACCV)},
year = {2010}
}